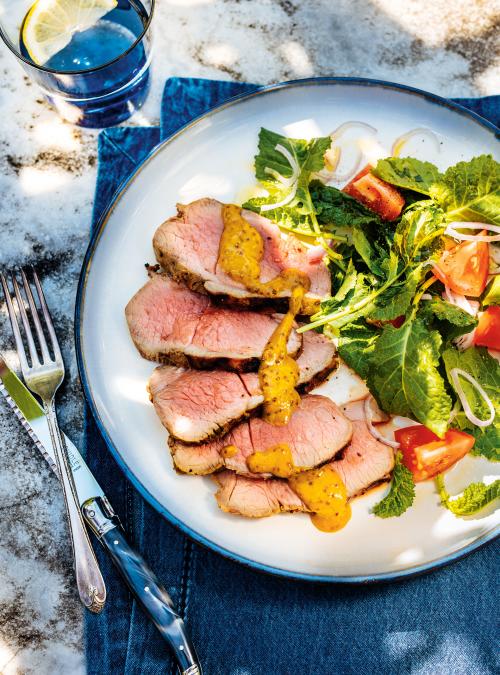 Ingredients
3 tbsp (45 ml) olive oil
3 tbsp (45 ml) lemon juice
1 tsp dried oregano
1 tsp salt
1/2 tsp crushed red pepper flakes
3 garlic cloves, chopped
1 leg of lamb, deboned, about 2.2 lb (1 kg), 1 1/2 inches (4 cm) thick
Preparation
Step 1
In a glass baking dish, combine the oil, lemon juice, oregano, salt, red pepper flakes and garlic. Add pepper to taste. Coat the lamb in the marinade, cover with plastic wrap and chill in the refrigerator for 4 hours.
Step 2
Preheat the grill, setting the burners to high. Oil the grate.
Step 3
Grill the meat on both sides. Reduce the heat to medium and continue cooking for 15 minutes, or until a thermometer inserted into the centre of the meat reads 122°F (50°C) for rare, turning the meat halfway through cooking. Remove from the heat and let rest for 5 minutes.
Step 4
Slice the meat. Serve with the mustard-based sauce (see recipe) and lemony baby kale salad (see recipe).