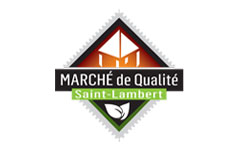 Summer Market of Saint-Lambert
As we are getting ready to hold up activities next Thursday August 20 to give all the place to celebrate St.Lambert, we won't be able to celebrate the week of Public Markets.
But each of you individually can take advantage of that week to take the country road to visit La Ferme aux Mille Cailloux. Come enjoy berry picking or experience directly purchasing from the farm. Montérégie has an incredible wealth of agro-food treasures.
To convince you here are some data provided by the MAPAQ:
The bio-food sector in Montérégie is: 7077 agricultural enterprises • 400 processing companies • 240 agri-tourism businesses • 82,200 jobs • $ 3.3 billion in gross domestic product and $ 460 million in capital assets of dollars.
We suggest you go to the blog legardemangerduquebec.ca where you will find itineraries, recipes, farm profiles, producers.
We also suggest you to visit the website of the Quebec Public Procurement Association (www.ampq.ca) where you will have access to all the directory of activities taking place during this special week in the member public markets. good walk!
Diane Séguin
Every thursday : From june 7th 2018 to septembre 13th 2018