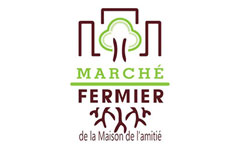 le marché fermier du métro laurier
The farmer's market is a project of the house of friendship.
Founded in 1974, the house of friendship (ma) is a community center located at 120 duluth avenue east in the heart of plateau mont-royal. its mission, well summed up by its motto "a community of solidarity", is to promote the social integration of people and the development of the spirit of mutual support and commitment in the community.
The farmers market team follows the recommendations of a five-member executive committee, including residents of plateau mont-royal borough.
Dates : Every thursdays and sundays from june 28th to to september 9th
Hours : Thursdays from 3pm to 7pm
Hours : Sundays from noon to 4pm
Location : Laurier station, plateau mont-royal
Address : Laurier station, montreal